Post lockdown time "art of social distancing" piece by a group of Urban Designers, Architects, Ass. professors at DIT University,Dehradun, India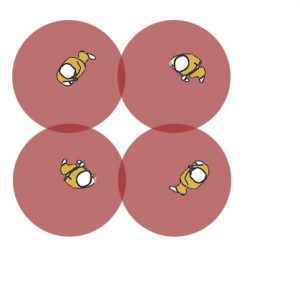 This beautiful piece of encouraging "Social distancing planning" is submitted by a team of Architects and Urban Designers Charles Porwal and Poonam Katre, presently both of them are involved in teaching and research in DIT University,Dehradun as an assistant professor.
Illustration showing the conceptual idea of the pattern in public space used for social distancing.
This fascinating (social awareness for social distancing planning) can be considered while designing public spaces is submitted by Ar. Charles & Ar. Poonam. It is a deeply moving piece of (ART OF DIY SOCIAL DISTANCING TOOLKIT ). Thank you,  Charles & Poonam for your valuable contribution. We think it will surely become a guard rail particularly for the government and planning authorities after this deadly covid 19 pandemic and back our post lockdown social awareness campaign for any future pandemic.
This is part of an entry for the government competition held in "my gov" website for social awareness for social distancing. Its a graphical representation done for the general public with some ideas for government for maintaining the public space after the lock down.
Illustration showing the character of the public space 
The concept of Collectivism and Individualism is an idea of utilizing the public space during social distancing and normal times. The Grid pattern of 3-4 metres in public space also generated the visual charachter along with conscious distancing during panedemic times.
FEATURES
Restrict the distances visually between the two or more people at the times of panedemic due to graphics.
Generating the sufficient space in one pattern for an individual or group of 2-3 known people.
Providing a visual experience to the users.
During panedemic times, the pattern can generated the demarcaiton for informal vendors.
During normal times, it provide a interactive and playful space to the public due to colorful patterns.
MODE OF IMPLEMENTATION Permanent – Tiling through different materials. Temporary – Coloring and Line demarcation.
CONCEPT B FOR LARGE PUBLIC SPACE
Illustration showing the interaction during social distancing
The concept of generating physical social distancing through transparent barrier with maintaining the audio and visual access. The idea talks about the interactive vertical planes in the public space to give a interesting character and identity to the public space which can be used for movement during the social distancing times and can also acts as a rememberance to the people who worked for covid-19 panedemic.