Save up to 47,90 € with a prepaid subscription
Gift a subscription to the ones you love!
Get a monthly subscription for 39,90 €/mo with automatic monthly billing.Pause or cancel any time. Free shipping within Belgium.
Sign up now and get our comprehensive Starter Kit and VR headset for $50 free.
What to expect
1. Starter Kit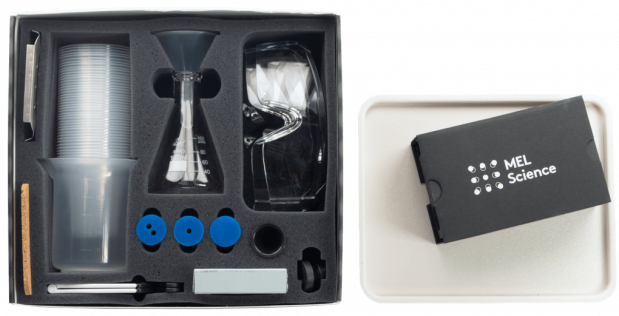 This comprehensive Starter Kit contains all the equipment you'll need to conduct your experiments. It also includes accessories for your smartphone or tablet to help you learn chemistry more effectively. You'll use the items in this kit repeatedly throughout your subscription.
Borosilicate glass beaker and flask
Borosilicate glass withstands excessive heat and is great for heating liquids on a stove. It conducts heat well and is crack-resistant.
We minimize the use of glassware to make our sets safer. Where necessary, special borosilicate glassware is used to eliminate the chances of thermal cracking and shattering.
The flask and the beaker will be necessary for experiments that require you to heat the reagents.
Virtual Reality headset
The Molecular Viewer uses a virtual reality headset inspired by Google Cardboard. Just insert your smartphone to get started!
The MEL Chemistry app allows you to explore molecules and crystal lattices. With the Molecular Viewer, you will even be able to immerse yourself into any given substance and explore its structure from the inside.
In addition to the MEL Chemistry app, you can use the Viewer for hundreds of third-party applications including games and 3D maps.
Turn your smartphone into a portal to virtual reality!
Macro lens
The world of chemical reactions is incredibly beautiful! However, to see its hidden glory, you will need high magnification.
The Starter Kit contains a special macro lens that can turn almost any smartphone or tablet into a microscope able to capture amazing pictures and videos of your experiments.
Smartphone/tablet stand
All experiments included in MEL Chemistry sets are accompanied by video instructions and contain detailed descriptions and exciting assignments.
Every time you conduct an experiment, just set up your smartphone or tablet in front of you and launch the MEL Chemistry app to start your guided journey through the world of chemistry.
For your convenience, we supply a special stand that fits any smartphone or tablet.
This stand will also help you take beautiful videos of your experiments by providing support and a proper angle for shooting video.
Safety glasses and a tray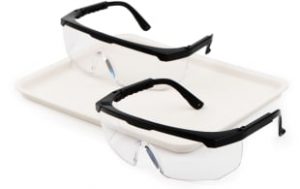 Safety first!
The Starter Kit includes two pairs of special protective glasses to ensure the safety of the child and the supervising adult.
Moreover, we supply you with a tray that will conveniently protect your table from possible spills and stains.
Solid fuel stove (burner)
This convenient foldable stove can be used to safely conduct experiments that require an open flame.
2–3 exciting experiments delivered to your door every month.
You will receive 1 experiment set each month. Each MEL Chemistry set includes 2-3 experiments and contains the equipment you'll need to conduct the experiments: enough chemical reagents for at least 2 attempts, additional components, and visual step-by-step instructions.
Grow intricate crystals with the Tin set.
Tin
 Experiments included: Tin dendrite, Tin hedgehog.
3. VR headset & chemistry lessons in VR
Virtual Reality headset inspired by Google Cardboard – just insert your smartphone to get started!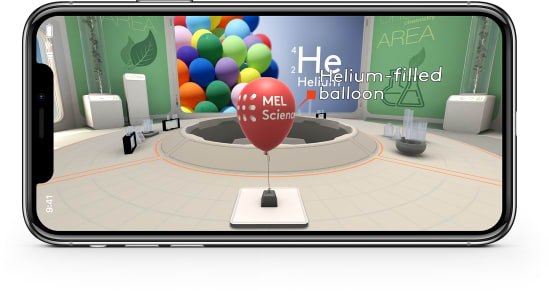 Dozens of VR lessons and tests spanning a standard school chemistry curriculum.
Examples of our VR lessons:
With our subscription, you'll get over 33 different VR lessons. You can have a look at some of them below.
Atoms in solids
The first lesson shows that all matter consists of atoms. It will take students inside graphite and a diamond. Students will see that both materials consist of the same carbon atoms, but have very different properties because their atomic level structure is different. Students will also learn that atoms in solids do not stay still – they vibrate.
Atom size trends
The best way to understand atom size trends is by adding electrons, protons, and neutrons to an atom one by one to see how they affect atom size. You will learn why atom size gradually decreases from left to right across any given row in the periodic table, and increases again when you continue on to the next row.
Interactive periodic table
You can play with this interactive periodic table, exploring each atom and adjusting its electron orbitals and the corresponding configuration diagram.
Frequently Asked Questions
Which set will I receive if I start now instead of starting at the beginning of the school year?
You will receive an experiment set with experiments illustrating a designated topic. One new topic is introduced each month. You can check the full list of topics for the entire subscription to see which sets you can receive each month. The topics are looped such that the start date of your subscription does not matter; you will eventually receive all the experiment sets.
Are the experiments safe?
Yes, they are. We have made every effort to ensure that our experiments are as safe as possible:
The European Committee for Standardization (CEN) has compiled a special list of substances that are allowed in children's chemistry sets (EN 71-4). We only use substances from this list.
None of our experiments include explosions.
We painstakingly identify the safest way to carry out each experiment.
All experiments have been tested in schools and/or in after-school clubs.
Each experiment includes very detailed, visual step-by-step instructions.
Can I buy an individual experiment set?
Currently there is no such option; however, we hope to introduce this opportunity in the near future.
Can I order additional reagents to repeat the experiment?
Each experiment set includes enough reagents to conduct each experiment at least twice. Since our sets are often shipped internationally, we cannot offer replacements for individual reagents. We can, however, provide replacements for whole sets.