The only way out is IN! The novel Covid-19 is mother nature's wake-up call to the complacent civilised human civilisation!
(Stay at home while other vulnerable species are out)
Never before we have faced single common invisible tiny little enemy that made our lives stand still. Seems like the 1918 flu pandemic is a sudden spectre in our lives and the novel virus that keeps us contained in our homes—maybe for months—is already reorienting our relationship to the outside world, even to each other. #socialdistancing
New Doc 04-03-2020 17.49.32_1
New Doc 04-03-2020 17.48.22_1
New Doc 04-03-2020 17.51.00_1
The wealth we've accumulated – often at the expense of others – has shielded us from reality. Buying and consuming more than we need means that others may be left without," While the deadly novel coronavirus continues to spread globally, we all are bracing for an unpredictable social, economic and health impacts. Apart from stockpiling healthy, flavorful meals during a coronavirus quarantine let's start considering climate change and global pandemic seriously and how we can upgrade our lifestyle for a better sustainable world while quarantining at home, So that after this deadly Covid19 pandemic, we all will have a harmonious equal shared earth for all the species not just us! Or else again the deadly fight would popped up not because of silly fights over toilet paper 🧻 but serious fights over food and drinking water. How will we feed ourselves? Fights over toilet paper are silly enough: We hope we never have to witness fights over food & water.
While #selfquarantine Investing on mitigating and adapting to both pandemic and climate change risks on earth! Let's understand how much our lifestyle including outfits, infrastructure, travels impact on earth's resources. We should aware about, how much energy & water, it consumes before we buy and use them . How much it consumes in making, how much water left with us on earth. For instance Fast fashion makes shopping more affordable, but it comes at an environmental cost. The fashion industry is now the second-largest generator of pollution on Earth after the oil industry. There are travel, real-estate, film, transportation industries and so on. Enough evidences showing how climate breakdown is likely to affect our food supply.
Recent 2019 – 2020 Australia bushfire that engulfed approximately 18,636,079 hectares (46,050,750 acres) of forest. It's been estimated that around 1.25 billion animals have been killed across Australia to date.. Koalas are in serious decline suffering from the effects of habitat destruction, domestic dog attacks, bushfires and road accidents. Almost thousands of koalas and other iconic species such as kangaroos, wallabies, kookaburras, cockatoos and honeyeaters burnt alive, and many thousands more injured and homeless. Can we save them , can we save our wildlife, flora and fauna! Now this deadly covid19 pandemic. Now the membrane has ruptured, and we find ourselves naked and outraged. Temptation, when this pandemic will pass, we will be ready for another bubble burst. We cannot afford to succumb to it next. From now on, we should all expose our minds to the painful realities we have denied about risks associated because of our selfish actions on planet earth for too long. We have been living in a bubble, a bubble of false comfort and denial that is about to burst in a bigger way much larger than this deadly COVID-19 pandemic.
The pandemic coronavirus has brought back the 2008 financial crisis, which led to reshape the society in enduring ways, whether it's travelling or studying or employment or buying homes, or the level of security and surveillance we're accustomed to and even to the language we use and platform that we operate on. But this moment of crisis also avails us with opportunities where we can make sophisticated and flexible use of technology, feel the equality, appreciate the life's small and simple pleasures with family. We do not know that what will come on our way the next moment, but we all are sure, our society, government, healthcare, economy, lifestyle will change. This loss of humanity and innocence has become a new way of surviving in the world that will change our working style. Now we know that touching things, being surrounded with people and breathing the air in an enclosed space can be risky. How fast that awareness fades will vary from person to person, but it can never vanish completely for anyone who lived through this year 2020. Eco harmony living vs human ego! Shockingly we are just very careful about ourselves. In a recent survey of 1,051 United States adults, 22% said they've begun stockpiling food in case of a coronavirus-related emergency such as a quarantine. Why we can't think about climate emergency, bushfires, endangered species, and death of millions of animals and birds for those we are responsible. The world that is interconnected has suddenly become so vulnerable and fragile due to this novel coronavirus. We are locked inside for days, it might continue for months. If it continues to happen like this, then we will run out of most of the things that we are blessed with currently. COVID-19 started to spread from Wuhan to other countries in January, 2020. It affected the entire world and those dying because of this, began to rise at 20-30% per day in Iran, Italy, South Korea and then the whole world. This has also led to the global economic slowdown affecting millions because of the cancelled flights and closed businesses. The impact of COVID-19 on the global economy is as yet unknown but could be a loss of at least 5% global GDP or more. On the other hand, while the whole world is in quarantine, Mother Nature is healing. The green house gas emission is expected to shrink this year. However experts are saying that this fall in emissions might be just temporary. Scientists and environmentalists are expressing their concern that the pandemic will erode government and industry's resolve to cut emissions in the long term and used as a reason to restore polluting industries which were already in decline. As the world heads toward 3 degrees centigrade warming, the damage will be devastating, putting huge strains on food security, water supply and health services while covid-19 has lowered CO₂ emissions drastically, with flights suspended and factories closed in many parts of the world. The impact is huge & mother nature's wake-up call to us (the complacent civilised humans) Let's reiterate and work towards harmony living together! In this adverse scenario, we are trying hard to find new ways for connecting and supporting each other. We are sure, there will be major changes in the health-care system and maybe also the government; and we'll become newly conscious of interdependency and community. However, it's quite vital to reduce the risk of a future pandemic as well as deal with climate change. We might or might not be aware of the fact that all water is reused since there is truly no water on our planet. But then are we all aware & responsible enough to make use of recycled water wisely.
We are standing with our community in this global fight against COVID-19. We are driven by a common purpose of delivering a better world. On positive note The Pencil for Change quarantine art fair is an online fair made to celebrate and showcase the works of all (since we believe everyone is an artist) many professional or non professional artists around the world who might or might not have been affected by the need for quarantine due to the spread of Coronavirus (COVID-19). Personally, a launch of kiskstarter project got postponed this month and We had to shut down our shoe factory and office. It left us with such a weird mix of feelings, as We planned and prepared something which was throwing light on the global climatic change conditions, pollution and animal planet but now suddenly the whole focus shifted towards the global pandemic, COVID-19. This deadly threat to the human life left us with a completely weird experience. We are sure this pandemic might have affected many of you in some or the other way. Your work, your business, your start up might have affected in small or big way. We are here to provide a platform to all such work, talent and ideas to celebrate as a family! Let's take this as an opportunity to know each other and inspire each other through online while maintaining (social distancing) . We welcome you all to showcase your talent and work on this platform! Check out our call for action (submission page) and Exciting Take away page (a special memorable gift exclusively curated for you and your family).
If you're concerned about a possible quarantine, an easy first step is to assess what we already have in necessary stocks, be it food or medicine without panicking then we can quick scan of our pantry, wardrobe & pencilforchange quarantining art fair! Check out our Blog page (COVID-19) for healthy interesting tips. Warm hug (a distant one).
"Why" we have started this initiative?
Social and environmental awareness through Art: Mental health awareness through Art of harmony living.
How can we protect our mental health during coronavirus (COVID-19). Being a kid, teenager, young or old person, the coronavirus disease (COVID-19) is making our life measurable and most importantly mental health condition harder. For young adults it is difficult no matter what. With school, university, theatres, galleries, museums, public libraries, offices closures and cancelled events, most of us are missing out on some of the biggest moments of our lives — as well as everyday moments like chatting with friends, travelling, participating in community & leisure centres, sports centres. This period of life changes due to the outbreak who are feeling anxious, isolated and disappointed, know this: you are not alone. Let's recognise the anxiety that is completely normal and temporary, let's create distractions, let's find new ways to connect with our friends.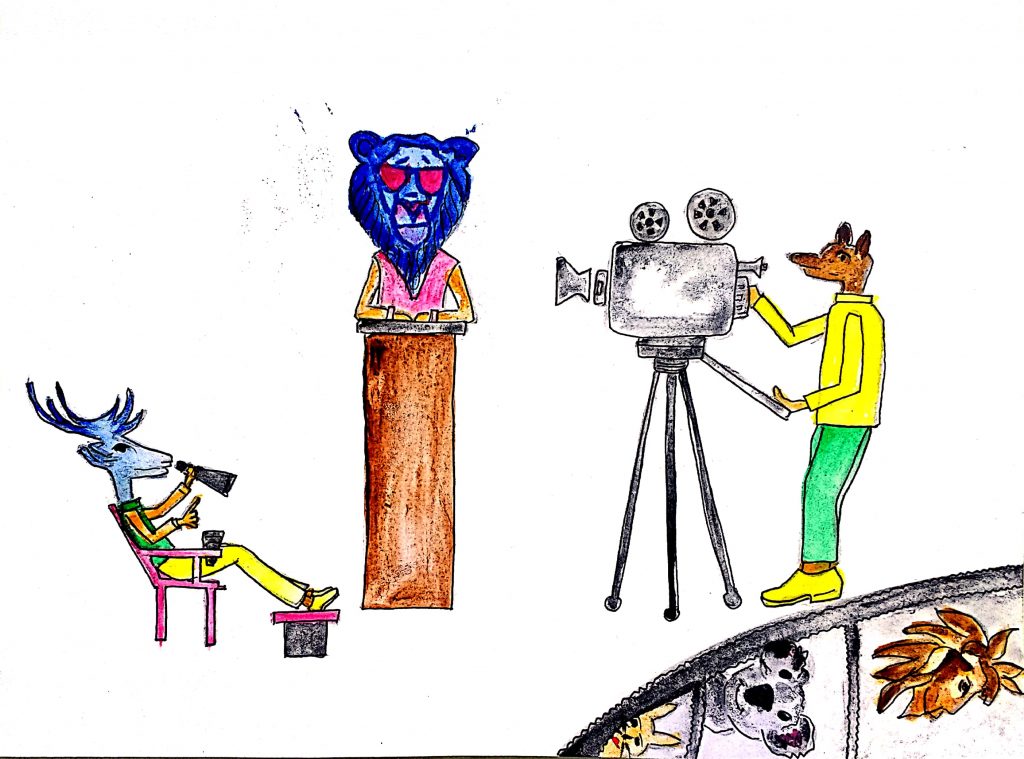 Focus on self: while focusing on ourselves, Have you been wanting to learn how to do something new, to spend time practicing a musical instrument or to do beautiful sketching or learning new form of yoga, learning a new technique of exercise, a finest way of cooking and washing, tidying up, most importantly feeling deeply our feelings and sharing with our family and learning the way of harmony living with our family members. Let's be kind to ourselves and others and standing against bullying online and offline.
Join us this curated "pencilforchange quarantining art community" where we can learn and share our positive actions and help community to stay positive during this deadly covid 19 pandemic of 2020. Let's remember and preserve the memory in a book for our house library . Let's add this book in our bookshelf… let's inspire each other and overcome this period of self quarantining.