Chaturanga (Chess) double ikat mulberry silk saree
₹ 33,888.00
Handcrafted to sartorial perfection from luxurious handwoven double ikat silk fabric. It assures a soft and soothing touch against the skin. (Love for Chaturanga) art forms adds to its overall appeal. abstract strategy game and is played on a chessboard with 64 squares arranged in an eight-by-eight grid. Organized chess arose in the 19th century. Aspects of art are found in chess composition, and chess in its turn influenced Western culture and art, and has connections with other fields such as mathematics, computer science, and psychology. The current form of the game emerged in Spain and the rest of Southern Europe during the second half of the 15th century after evolving from chaturanga, a similar but much older game of Indian origin is woven beautifully in blue, white and maroon colours. Double Ikat is a technique in which both warp and the weft are resist-dyed prior to weaving. It is the most difficult handwoven textile to make and the most expensive one. This "Double ikat" is only produced in three countries: India, Japan and Indonesia.
Sold By: Pencil for Change
Description
Handwoven tie-dye double ikat ultra luxurious mulberry silk, these are comfortable & breathable.
Low carbon, bio degradable sustainable outfits that feel good & look good, 100% handwoven tie dye double ikat is environment friendly.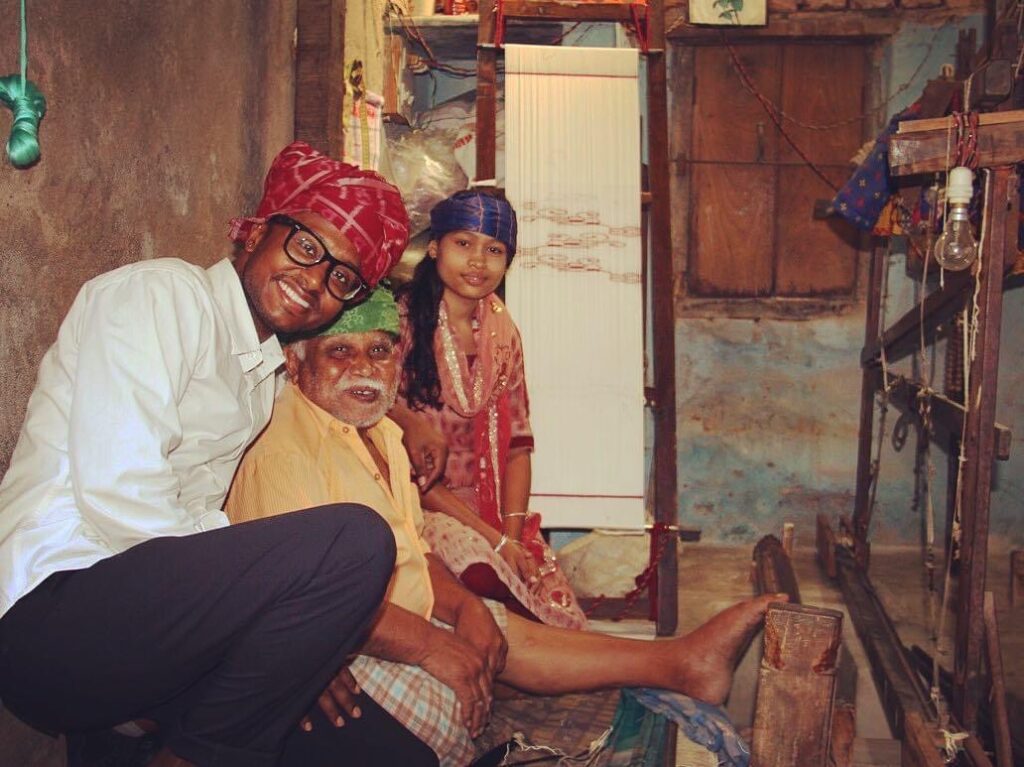 Climate change is happening (because of fashion waste and other Man made pollution) and health both are interconnected. We can avoid it, if we choose lifestyle consciously. We can stop health disruptions include increased respiratory and cardiovascular disease, injuries and premature deaths related to extreme weather events, changes in the prevalence and geographical distribution of food- and water-borne illnesses and other infectious diseases, and threats to mental health by choosing environment friendly clothings.
Assured product quality by Textiles Committee, Weavers Service Centre, India Handloom Brand, Ministry of Textiles
Government of Odisha, India that provides information about the physical or structural properties and the performance properties of the fabrics.
Reimagining our 1000 years old culture and tradition. Dying art and craft practices leading to a country's cultural loss. Keeping India's diverse, rich history, culture, the identity of a place, community alive through these mesmerising hand works.
When we search 👀 for sambalpuri saree, pasapali pata saree, sambalpuri silk saree, Mulberry silk saree, Ikat silk saree, Double ikat silk saree, Ikat saree, Odisha ikat saree, tie dye ikat saree, ikat cotton, handwoven saree in google. Many companies pops up. But how to evaluate them all. All our product's socioeconomic and environmental value are intact that you can absolutely rely on.
Wash Care Instructions : Dry clean only
Disclaimer : We have made a consistent effort to make the colours and finishes similar to the image of the products you see on screen. However, the actual product and the images on the website can differ! Customer's discretion is advised.
Note : The products in the image are for illustrational purposes. Please refer "items included in the package" to understand what is inclusive of the price
Country of Origin: India
Note : Mix of Taxes and discount may change depending the amount of tax being borne by Pencil For Change.