Quarantining stunning family time "art of harmony living" piece by
Jaya Ghosh & family
This beautiful piece of encouraging "Positive ways to live a healthy family life" is submitted by Jaya Ghosh, Test Lead at Dell & Piyush Patnaik, Director at Duff & Phelps .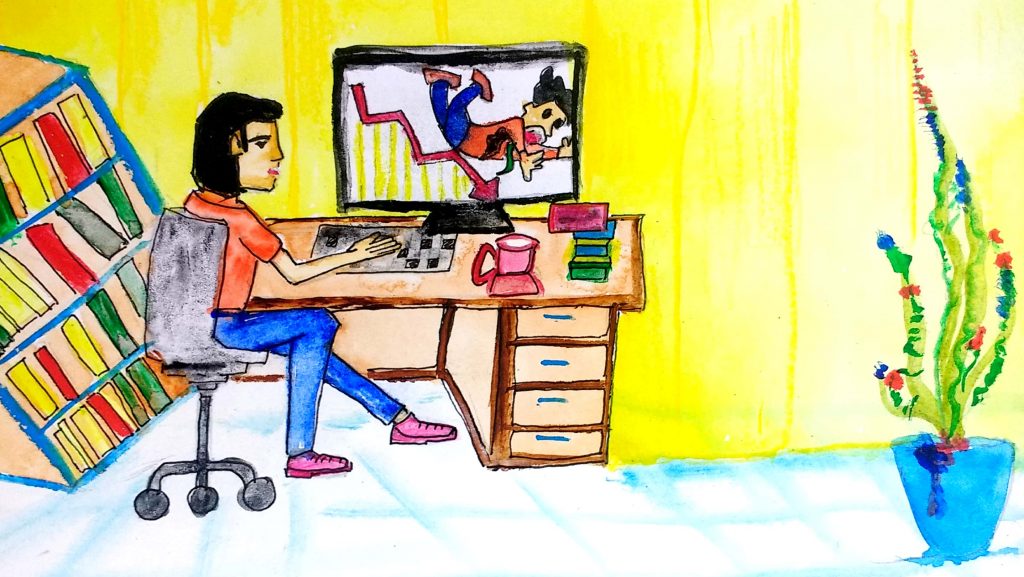 These beautiful art & craft, a short video of  7 years old Yohaan spending good time with his working patents is encouraging particularly for children around the world!
This interesting piece about Covid19, the worst global pandemic condition is submitted by Jaya Ghosh & Piyush Pattnaik , Bangalore, India . It is a deeply moving piece of (art of harmony living at the time of quarantining) work that we feel fortunate to put it in our featured wall. Thank you, Jaya Ghosh, for your valuable contribution. We think it will surely comfort many families at the time of deadly covid 19 pandemic and back our mental health awareness campaign.
The world has changed. What started as a local issue in Wuhan, China has consumed the world now, forcing governments and corporations to take unprecedented steps.  At the time of writing this article, the virus has effected close to 2 million people globally and killed more than 100,000 people. In India, there have been close to 10,000 cases with 275 deaths. The government was quick to respond and declared a lockdown across the country.
We have, since the end of the third week of March, been in a state of restricted movement. From that day on, the normals became abnormals and abnormals became normals. No going out, no meeting people, no offices(unless you are providing essential services), people on roads wearing masks(something that would be unusual in normal times) and not greeting or talking to each other and unusually thin traffic. Every sneeze or sniff was looked at suspiciously by others and nearly every logical human being exercised abundant caution. We were all home bound.
Good thing however was that since the lockdown was long, family time increased. In nuclear families with two working parents and a school going kid, time is regimented both on weekends and on workdays. Even when kids are home, they tend to be out and about. And so are the adults, running one errand or the other. With the forced quarantine, no one is going out, families are spending time together. We have taken a welcome break from alarm clocks and routines/schedules.
However, we have to spare a thought about the millions of daily wage workers and house helps who had left their hometowns to come into the thriving cities in search of employment. The virus for them is another "privilege" problem. They have more basic needs that they need to take care of. And now with lockdowns, a lot of them have much less to do. On one hand they are the hard assets on whom the country relies on, but on the other they are never appreciated and terribly underpaid. The maids, cooks, drivers, security guards, manual labourers, construction guys, mechanics etc. fall in this category.
Many have now left the cities and have gone back to villages. The bigger issue isnt just the current lockdown but the lack of clarity around what the future holds, bothers them much more.
Amidst the gloom and doom, some brave heroes and foot soldiers continue to serve the rest of us, courageously. Hats off to the nurses, food and medicine delivery guys, transporters of essential items, security guards, helpers in kirana stores who have hung on and continue to put their life at risk, for us. Same goes for policemen, the armed forces, bureaucrats and the workers (who take the government order and implement them at a city, village, district level) and the likes. The above set of people, always go above and beyond and have a much deeper impact on the society.
Last but not the least, I want to call out the Doctors and the support staff (who, in these times, are serving and curing the critically ill) and the researchers who are developing means and ways to bring this epidemic to an end. We have always looked upto them but situations like these only increase our respect and make the future generation idolize the noble profession.
Hope we all realize through these difficult times, who the most critical people on the planet are. What their families go through. what kind of sacrifices do they make. What is our own value add. What can we do to help them and to help each other.
As we come out of this, it may change our ways of living and interacting with each other. It may change the way we look at life, at family, at the people with limited means, at people doing public service and more importantly at ourselves.
Human beings are known to be resilient. This too shall pass. Till then, lets be cautious, lets co-operate with the government/authorities, lets help the weaker sections of the society and neither create nor spread panic. Be strong, think strong.
Yohaan's art and craft during lockdown