Quarantining time "Togetherness" piece by Abhishek, a BITS Pilani & IIM Bangalore alumnus, India
This beautiful piece of encouraging "Meaningful life" is submitted by Abhishek Ghosh, McKinsey & Co. consultant, a BITS Pilani & IIM Bangalore alumnus, Mumbai, India
This fascinating (Togetherness) during Covid19, the worst global pandemic is by Abhishek. It is a deeply moving piece of (art of encouraging life at the time of quarantining) work that we feel fortunate to put it in our featured wall. Thank you, Abhishek for your valuable contribution. We think it will surely comfort millions particularly millennials who lost their jobs, having a tough time during this deadly covid 19 pandemic and back our mental health awareness campaign!
The QUEst, IIMB, where he talks about facing up to the odds, why they had set it up and what it means for colleges across India. With help from his documentary film-maker superstar friends, @mondey (Monisha Dey) and @stumbleuponnish (Nishanth Menon)
#lgbtq #lgbt #pride #mentalhealth #diversity
 About Abhishek:
A fish-loving, book-hogging quintessential pseudo-Bengali (read probashi) boy brought up all over India (Kolkata, Bangalore, Pune and Mumbai). He graduated from the mystical institute in the deserts of Rajasthan (BITS, Pilani). Wanting to continue to procrastinate making life decisions, he hopped aboard the MBA bandwagon at IIM Bangalore. He loves great conversations and is always open to explore (the city, cuisines, people and their stories, the works). Francophile, aspiring Egyptologist, swimmer, and adorer of coming-of-age-films and exotic music (often Middle Eastern, Baul or Western Classical).
He has vacationed with family and spent exchange terms in 24 countries in Europe, 4 countries in Asia and backpacked across the absolute dreamland of Egypt for a month-and-a-half.
Founder of QUEst, IIMB— to advocate for rights of minority groups such as LGBTQ, women and PwD. Read more at https://bongfrombombay.wordpress.com/
Abhishek says:
My sister and I made Parsi Kheema Par Eeda by following Chef Delz's recipe and we decided to document our subsequent experiments on an Instagram page to help all our friends go through quarantine with happy, easy to make food at home! (and we have been sharing the load on house work: cooking, cleaning utensils and buying groceries, brother-sister bonding and mom couldn't be happier!)
"The Consultants Cookbook"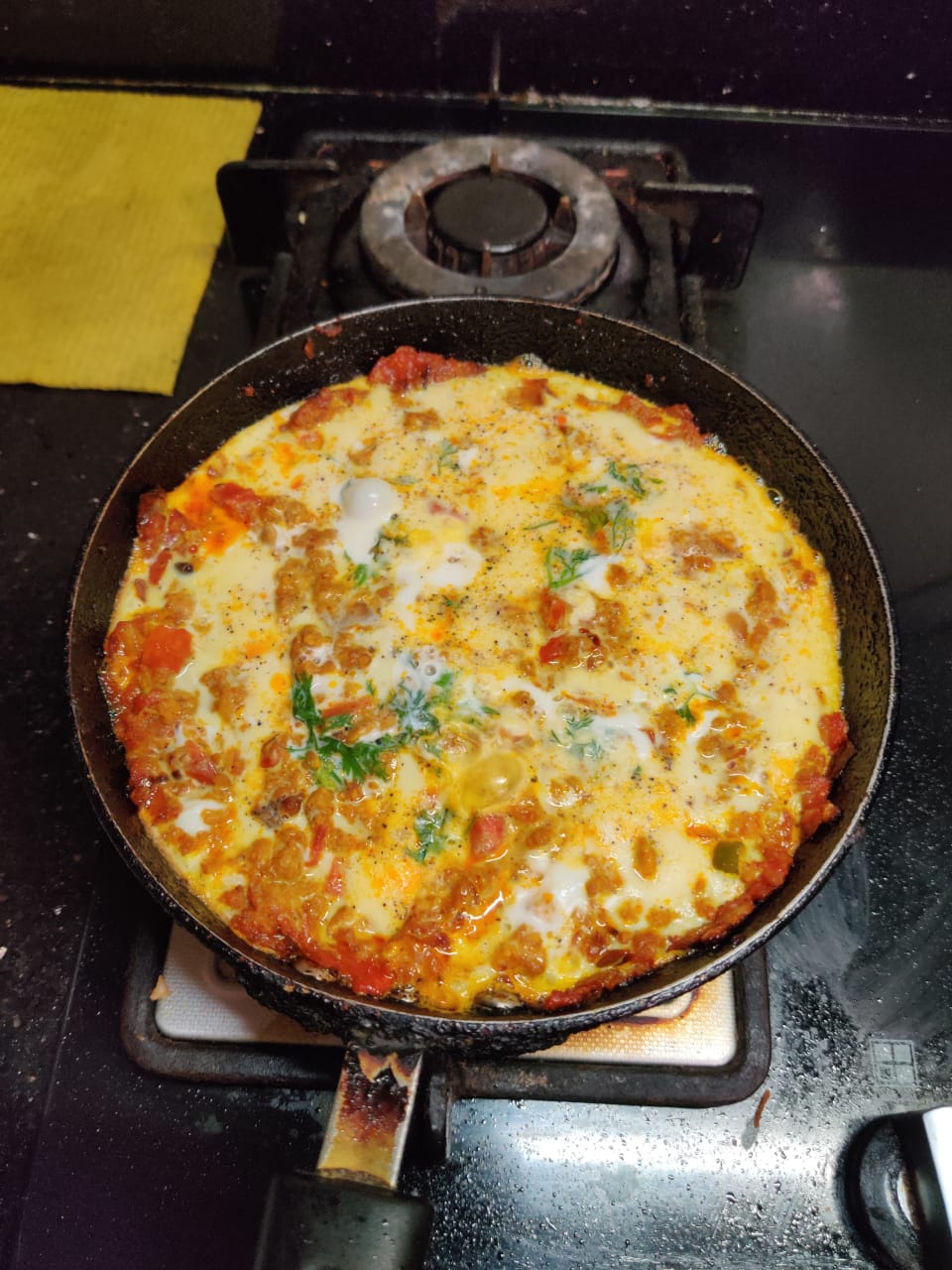 Kheema Par Eeda_theconsultantscookbook_2
Kheema Par Eeda_theconsultantscookbook_1
Kheema Par Eeda_theconsultantscookbook_3
Recipe for Parsi Kheema Par Eeda
Ingredients: onion, tomatoes, chopped coriander, chopped chillies, ginger garlic paste, red chilli paste (or red chillies), oil, eggs
Dry spices: dhanna jeera powder, chilli powder, sugar, salt, pepper, haldi (turmeric), garam masala powder, coriander, vinegar
Minced chicken, eggs
1. Marinate the chicken with salt, pepper, ginger-garlic paste, red chilli paste, haldi (turmeric powder), dhanna jeera powder, garam masala powder and chilli powder (for ~15 mins.)
2. In a pan, heat oil and sautée chopped onions till golden-brown
3. Add chopped tomatoes to this and stir till the mixture is soft
4. Add red chilli powder, pepper, haldi (turmeric powder), dhanna jeera powder, garam masala powder chopped green chillies and let it cook till the spices are completely mixed
5. Add the marinated chicken kheema and mix
6. Add 1/2 a tablespoon of vinegar and sugar
7. Stir and to flatten it out on the pan, add chopped coriander
8. In a separate bowl, crack 3 eggs and add salt, pepper (for taste) and whisk it (or use a spoon :p)
9. Pour the whisked egg to cover the entire surface of the pan and let it simmer for 10 minutes
10. Serve with toasted bread/rice or just eat it plain!
Major shoutout and credit to @chef_delz and @mumbaifoodie for #quarantinecooking and of course to chef @a_nushka__ ! (Anushka Ghosh)
About Community Essentials: each of us is facing challenges in  accessing essential supplies, from grocery shops and pharmacies. To solve for this, 3 of my friends from BITS Pilani and I co-created a crowd-sourced platform which shows details of these essential services near you, with a Google map location, store timings and Covid-19 precautions they are taking. And we got 250+ page views in the first 5 hours of its launch!